Venna's Planet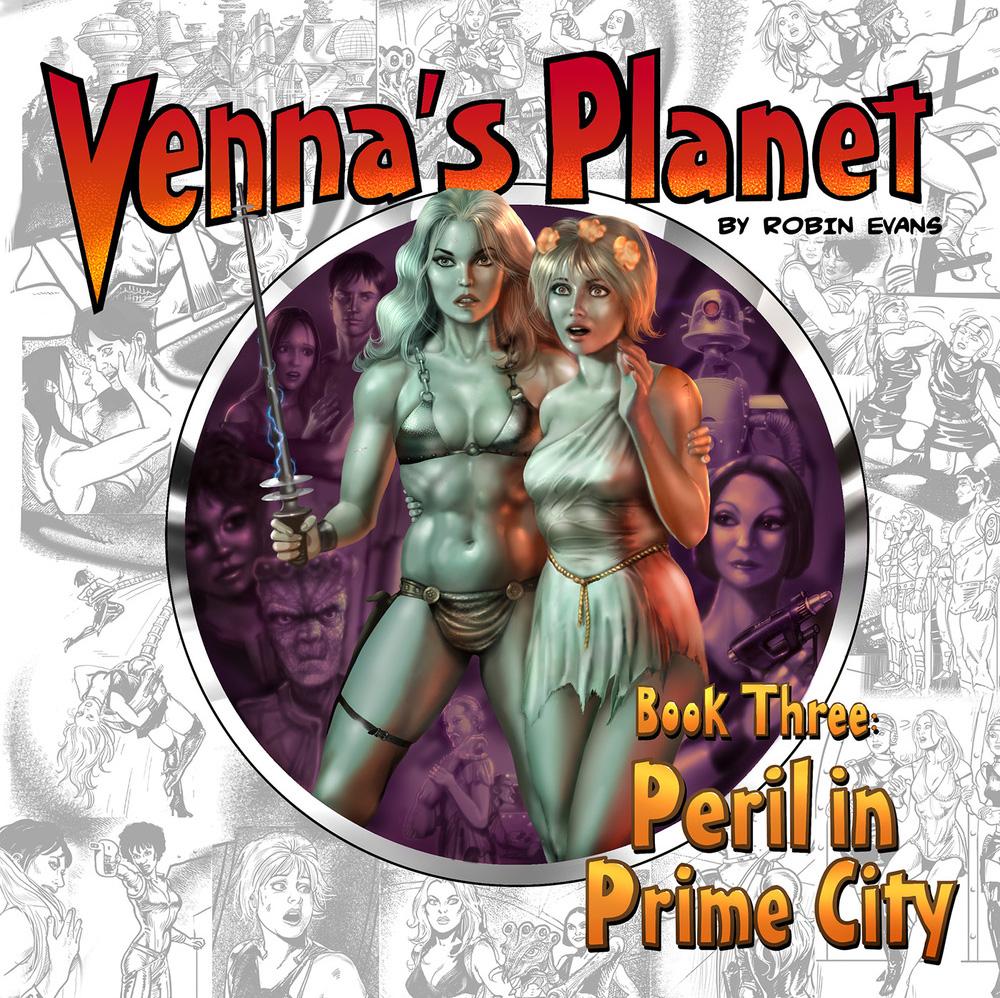 From the wonderful mind of Robin Evans is his infamous comedy space opera graphic novel Venna's Planet. You've read the first two in the three-part series, well Robin Evans is back with the final book, Peril in Prime City. You'll see Venna on her final set of adventures as Venna is pursued yet again by The Countess. Venna is without superpowers, yet in an extraordinary world, battling strange and curious creatures. Venna's Planet is inspired by pre-war serials and classic newspaper comic strips and pulp magazine cover artwork, Robin Evans presents his final Venna's Planet book, and it's a must-have on any graphic novel and sci-fi fan.
Get yours now…
Audiobook coming soon!
Expect to be transported into Venna's Planet, your reading material will come to life as soon as you start listening in to all of Venna's fantastic adventures. A three-part audio series to bring Robin Evans wacky graphic novel to life. Find out more about the cast below now…
---
Robin Grenville Evans
Words: Colleen Considine
If you've been lucky enough to grab yourself a copy of the fantastic space trilogy, Venna's Planet, then you'll know exactly who Robin Evans is. Robin Evans is the creator of Venna's Planet, an illustrator who created an intergalactic space heroine who battles strange creatures on bizarre and curious planets. Someone whose choice of weapon is a space pistol; you don't want to mess with Venna. Venna's planet is a three-part series, with the final book in the trilogy currently being developed and coming soon!
Robin Evans is an English-based artist who has been a comic strip artist since the seventies and eighties. His work has been featured in newspapers and magazines including, Space Doubt, Pimania and The Glasgow Evening Times. And for over 21 years Robin's longest running strip is Great Moments in Computing, scripted by the brilliant Mel Croucher.
His most popular graphic novel series Venna's Planet is set to turn into a brand-new audiobook. With the fantastic actress Amelia Tyler voicing Venna, you may know Amelia from voicing popular video games such as Battlefront II, Assassins Creed, Pathfinder: Kingmaker and many more. Misha Crosby who you may know from American Horror Story, Hollyoaks, Two Tribes and Unsinkable is playing Clayton. Caroline Munro from James Bond, Dracula A.D. and Vampire Hunter plays Venna's nemesis Jylda. And Sally Knyvette from Blakes 7, Emmerdale and EastEnders plays Countess Galo.
Robin Evans Venna's planet is different to the endless fetishized female characters, she is the heroine in the story and her bi-sexuality is normalised. The first two graphic novels have been immensely popular and they show the fantastic work of Evans in full. So don't forget to check out Venna's Planet the graphic novel and stay tuned for what else is to come from Robin Evans!